Dr. Renato G. Bortoluzzi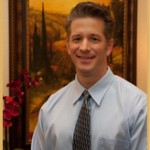 Dr. Renato G. Bortoluzzi is an experienced and highly traineddoctor dentist with a special interest in cosmetic dentistry. A native of Montreal, Quebec, Canada, he is fluent in French and Italian. Dr. Bortoluzzi earned his degree in dentistry from the University of Connecticut, School of Dental Medicine. Following graduation Dr. Bortoluzzi attended the University of California, San Francisco, School of Dentistry for advanced education in General Dentistry.
Dr. Bortoluzzi established his practice in the Rancho Bernardo area with a commitment to respectfully and compassionately provide quality care to each and every patient. He resides in Poway with his wife, Carrie, a hygienist and their two children Giustino and Brianna.
---