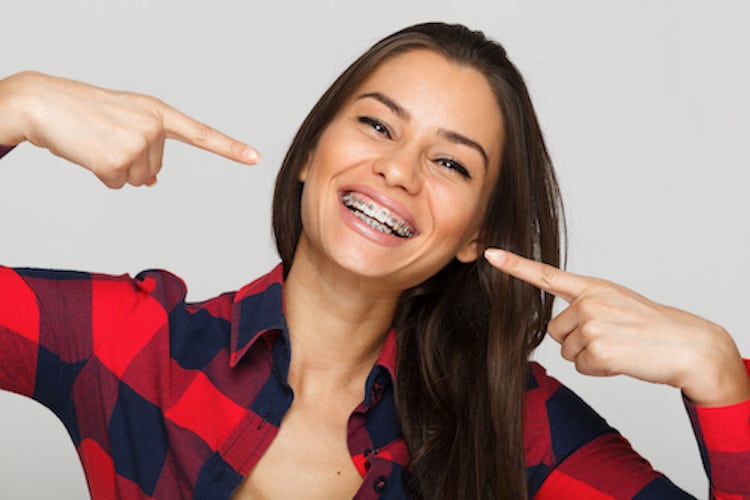 Looking For Braces Nearby?
People sometimes assume that braces are only for cosmetic reasons. While that is important to a lot of patients, braces also help to improve tooth alignment as well as correct the following types of issues:
Overbite: The upper jaw is larger than the lower jaw, causing the upper row of teeth to protrude further than usual.
Underbite: The bottom jaw is the larger and protruding one in this case.
Teeth crowding: As the most common reason that people get braces, crowding refers to the overlapping of teeth that makes it impossible for other teeth to erupt through the gums properly.
Spacing: This issue presents the opposite problem of teeth crowding. A patient may be missing a tooth, which leaves too much open space in the mouth. He or she could also have an unusually large jaw and desires to bring the teeth closer together.
Mismatched dental midline: This problem occurs when the back teeth don't match or fit as they should with the front teeth. It can cause significant problems with jaw function.
When these issues go untreated, it increases the likelihood of gum disease, tooth decay, earaches, and headaches as well as the ability to speak and chew food properly. Poorly aligned teeth can also affect self-esteem.

Understanding the Different Types of Braces
Invisalign is the brand name for a set of aligners that patients can remove to eat and brush their teeth. They're also clear, making it possible to disguise orthodontic treatment. Clear and metal braces, the more traditional options, involve placing brackets on the teeth and connecting them together with wire. The difference is the type of brackets used. All types of braces place pressure on the teeth to move into the desired position.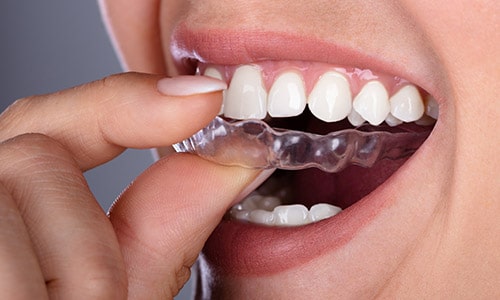 What You Need to Know About Invisalign
Treatment with Invisalign involves receiving a set of clear plastic aligners to last the duration of your treatment time. After Dr. Yoni Cohen fits you with the first aligner, you wear it for approximately two weeks before exchanging it for the next aligner in the set. Our dental laboratory in Yorktown Heights creates the set of aligners after receiving specific information about your teeth, gums, and jaws from your dentist. Each aligner gets you just a bit closer to your goal of attractive and properly aligned teeth.
You should plan to wear your aligners from Invisalign all the time except when eating or brushing your teeth. Even though you can remove them whenever you want to, doing so only extends the total time that you must wear them. Be sure to clean each Invisalign clear aligner to avoid the possibility of introducing bacteria back into your mouth. It's also important to exercise caution when wearing the aligners to prevent them from breaking.
Orthodontic treatment with Invisalign typically offers a shorter treatment time than the more traditional methods. Your dentist will let you know if you're a good candidate for Invisalign after completing an exam during your initial consultation.
Traditional Metal Braces
As the oldest form of orthodontic treatment, braces made from metal still work very well to bring the teeth into proper alignment. The first thing Dr. Yoni Cohen does when you receive standard braces is to place strong dental adhesive to each of your teeth. This is necessary to allow your dentist to place an individual bracket on each tooth and then connect the top and bottom rows of brackets together with a single thin wire. You will need to return to Cohen Family Smiles approximately once a month throughout your treatment to allow our dentists to tighten your brackets and wires.
Traditional metal braces are still popular among teenagers. One reason is that people expect to see people in this age demographic with a mouthful of brackets and wires. This makes them feel less self-conscious, especially if they have friends receiving braces around the same time. It usually isn't until a young adult has settled into a career that they begin inquiring about Invisalign or clear braces to fix their smile without anyone else knowing about it.
Clear Braces
Clear braces can make a good compromise between Invisalign and traditional metal braces. While your teenager might want to receive Invisalign treatment, standard braces are more typical. We encourage you to check with your dental insurance provider regarding you or a family member receiving braces. The insurance agent can verify coverage amounts for the different types of braces, which should make it easier for you to decide on a specific course of treatment. Although we use brackets and wires for clear braces, they match the color of your teeth to the point where people might not realize you're wearing braces at all.
Choose an Orthodontist with Advanced Credentials
Working as an orthodontist is far more involved than working as a general dentist. This is the reason orthodontists complete additional training lasting up to three years after graduating from dental school. Orthodontist also need to complete a board-certified examination before receiving a license to practice in their state. Both of our dentists have completed this training and certification.
Are you wondering which type of braces are best for you? We are happy to answer that question during a personal consultation. You may complete an online request to have our scheduling department call you back or contact us at 914-245-2965 to reserve your time with one of our orthodontic specialists. Getting braces in Yorktown Heights has never been easier!

Looking for an affordable Orthodontist with convenient hours?
At Cohen Family Smiles, your family is our family. We have weekend and after-school appointments available to fit busy schedules.