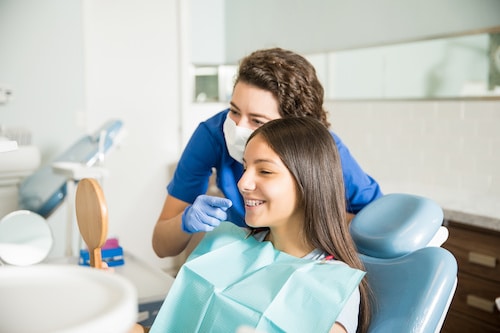 An orthodontist is a specialist who deals with tooth irregularities and jaw problems. If you or your loved ones are in need of an orthodontist, it can be confusing to determine who to pick. Do you find yourself asking these questions? How do I find the best orthodontist near me?  How will I know who to choose that can provide quality services?
Here are twelve (12) things you should consider when choosing the right orthodontist:
1. Is your orthodontist a specialist?
Not all orthodontists are created equal. Some have more experience and specialize in certain types of treatments that differ from others. Do your research first and make sure you are choosing a specialist with many years of practice and who has the skill sets for your teeth and jaw needs.
2.  What does Google say?
Aside from referrals from friends and family, Google reviews are a great way to learn about other people's experiences and get a good idea of how an orthodontist compares to others in the area. Reviews may share information regarding a customer's experience with the orthodontist, or even what the atmosphere and level of professionalism is at their office.
3.  What does the office look like?
One of the first things you should notice when visiting an orthodontist is how clean and organized their office is. An orthodontist should take pride in keeping their office neat and tidy. Make sure you are entering that sort of environment before getting any orthodontics work done.
4.  Do they offer reasonable payment plans?
Most orthodontists have one thing in common: payment plans! A good orthodontist knows that not everyone can afford treatment, so they work with you and your family's needs to create the most affordable terms. Call ahead and check with their office to be sure you can get in on a payment plan if you need one.
5.  Are they experienced with children?
Orthodontists typically see patients of all ages, but if you have a child who needs braces, it is important to find one who has experience working with kids. 
6.  Is the doctor friendly?
Orthodontists are people too! The best ones will make you feel at ease during your visit.
7.  How convenient is their office from your home?
Most orthodontists offer a variety of services, so for convenience, find an orthodontist that is close to you. You can use Google Maps or Ortho Finder to help you determine how close their office is to your home.
8.  What treatment options are available?
There are a variety of treatments and braces options available, like metal braces, ceramic braces, and Invisalign. Find an orthodontist that offers the treatment you need and the type of braces you want.
9.  What insurance options are available?
As orthodontic treatment can be expensive, look for an orthodontist that works with your insurance company.
10.  Do they offer a free consultation?
An orthodontist will normally offer a free consultation, so you can ask questions and determine if they are the right doctor for your needs.
11.  Are they passionate about their work?
Orthodontists should be proud of their work and desire to provide optimum orthodontic treatment. They should be excited to help patients achieve that perfect smile.
12.  Do they have a good reputation?
Make sure you find a good orthodontist with a reputation of satisfied patients who recommend them in their circles. 
Consider the 12 things listed above to help you find the best orthodontist for your needs who makes you feel confident in their abilities. 
At Cohen Family Smiles we aim to provide a comfortable family atmosphere with quality service. We offer solutions to a wide range of oral health care challenges by combining cutting-edge techniques with many years of experience. Our state-of-the-art technology helps us provide your child with top notch care.  Contact us today to set up an appointment here, or call our office at (914) 245-2965.