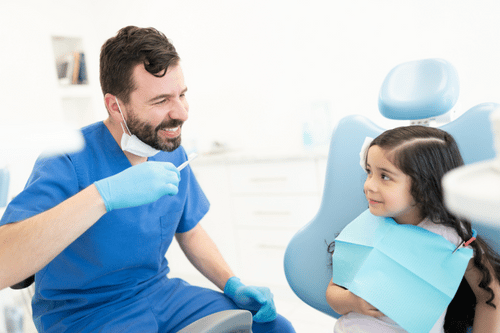 Finding a dental team you trust for your kids' dental health can be tricky. Not only do you have to consider the dental team's certifications, but you also have to keep things like your children's comfort and the office's location in mind. 
While going to the dentist with young kids can be challenging, regular dental check-ups prevent tooth decay and can set your kids on the path toward a healthy smile. Good dental health is a gift that will follow your kids through their entire life, so finding the best dentist for your kids is crucial. 
Here are some tips on finding a certified pediatric dentist near you. 
Finding a Board-Certified Pediatric Dentist
One of the easiest ways to find a board-certified pediatric dentist is to go to the source. The American Board of Pediatric Dentistry has a directory of board-certified pediatric dentists that is not only customizable but has a range feature that allows you to select dentists near you. In addition, it enables you to compare dentists in your area and guarantees that you're looking at certified dentists, reducing the amount of certification checking you need to worry about.
A board-certified pediatric dentist has the added benefit of added training and scrutiny, allowing you to rest easy knowing your child is getting the best of the best in pediatric dental treatment. 
Prioritize a Friendly-Dental Environment
While it may be tempting to go for the first dentist near your home, remember that going to the dentist is stressful for people of all ages, especially children. A welcoming dental environment helps reduce stress on you and your child, making going to the dentist a fun, relaxing experience instead of a twice-a-year struggle. 
A friendly dental office can help relax both you and your child, which is a crucial part of a regular check-up going well. Also, look for dental offices that allow you to schedule your dental appointments at a particular time of day, as this can help reduce your child's fussiness and make the entire process go smoother than ever. 
Look for Friendly Staff
Here at Cohen Family Smiles, our team prioritizes a family-friendly, fun environment that welcomes patients of all ages. A friendly staff is a crucial part of pediatric dentistry, as it helps create an air of calmness around the dental practice and can help you and your child feel cared for. 
While getting a read on a dental team from a single interaction can be tricky, feel free to switch dental offices if you feel rushed, unwelcome, or do not fit in with the office. You can also check online reviews to get a feel for the office before you visit. Remember, your stress can impact how your child feels about the dentist, so a friendly office can help improve your and your child's dental experience. 
Local Is Best, But Don't Be Afraid to Drive
While finding a dentist near you can help streamline your pediatric dentist experience, don't be afraid to go out of your way for a better fit. Finding the right dentist for your child can be challenging but ultimately rewarding. So being willing to go a little out of your way for a better pediatric dental experience is well worth your child's comfort.
If you're looking for a welcoming, kid-friendly dentist, visit us at Cohen Family Smiles. Our friendly team of pediatric dental professionals works hard to make you and your child as comfortable as possible through the entire dental experience. If you'd like to make an appointment, call our office at (914) 245-2965.