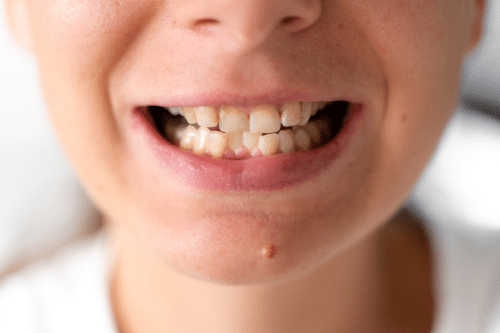 If you struggle with dental crowding, there are treatment options for you in New York. From traditional and invisible braces to extractions and retainers, you can transform your smile and renew your confidence. Not only does better dental spacing make your smile look better, but it can also reduce dental pain and make it easier to care for your teeth. Here, we discuss some of the best treatment options for a crowded smile. So let's jump into the top treatments for crowded teeth in New York without further ado.
Braces
A classic treatment option for dental crowding, braces can shift your teeth over time and gradually make more room in your mouth. Braces can fully transform your smile when paired with other orthodontic treatments like palate spreaders and dental extractions. While braces are a slower process than some of the other options on this list, they can revolutionize the spacing of your teeth and are a safe, reliable way to restore your smile and free up space between your teeth.
Invisible Braces
Like traditional braces, invisible braces gradually shift your teeth over time. But, unlike conventional braces, invisible braces don't require wires, brackets, and cement and are much easier to clean. As the name suggests, invisible braces are almost entirely invisible and act like a retainer that slips over your teeth. 
While you can't eat with invisible braces, you should wear these retainers daily to shift your smile gradually. However, invisible braces may not work for all patients, as more complex orthodontal problems require traditional braces or other orthodontia. Talk to your dentist to find out if invisible braces are a good fit for your needs.
Extractions
In the case of extreme crowding, your dentist may need to extract a few teeth to make room in your mouth. Thankfully, your dental team will ensure each extraction is as painless as possible and provide you with recovery instructions to help ensure your recovery goes smoothly. 
Remember that extractions may be the first step of treatment for dental crowding, followed by braces or invisible retainers to move your teeth into the spaces left behind after your dentist removes a tooth.
Retainers
If your dental crowding is minor or happened after braces treatment, you may only need a retainer to help shift your teeth back into place. Retainers come in several different forms, including wire retainers and invisible retainers. These tools help keep your teeth in place, prevent shifting over time, and space out your teeth. However, in the case of severe spacing, your dentist may need to use more drastic treatment options to solve overcrowding.
If you're worried about crowded teeth in New York, contact our team at Cohen Family Smiles at (914) 245-2965 or request an appointment here. We offer professional dental care for many dental problems and would happily answer any questions. From dental crowding to general dental care, we offer some of the best dental care in New York. We hope to see you in our office soon. 
Source(s):